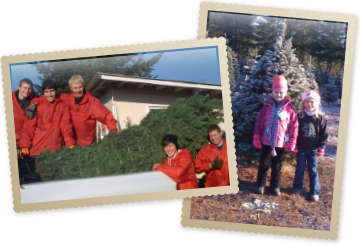 U-CUT / PRE-CUT TREES
Our farm has the following varieties in every size imaginable!
We shake and net trees, as well as drill the trees for stands
upon request.
» Price List   » Order Form
BIG Christmas Trees Available!
Are you in need of a BIG tree this Christmas?
Carrolls has them! Please contact us for information.

DOUGLAS FIR
The traditional tree of the Northwest. Classic shape and fragrance make this tree the biggest seller in the nation, and a family favorite.
NOBLE FIR
A long standing favorite of decorators. Large and heavy ornaments are no problem for the strong and stately branches.
GRAND FIR
Rich fragrance and deep green, glossy, lacy needles give this tree a particularly unique appearance.
NORDMAN
The newest designer tree has a lush green appeal. The shiny, touchable needles have amazing retention. Native of Turkey and Russia.
WREATHS
Wreaths in several sizes and varieties are available on-site.
Special order wreaths as large as 5' available upon request.
FLOCKING
Flocking available for pre-order. Our price is $10/ft.
Delivery available to Eugene and outlying areas. $45 per tree.